(The British edition)

ZARAFAPHILIA:

Thanks to the ancient art of taxidermy, Zarafa now stands in a museum, a former
cabinet des curiosites,
in La Rochelle, France. But she never had a name before. Now, as you can see on the
museum's official website,
she does.


"Zarafa" is not a novel, it is a very carefully researched work of non-fiction. But it's such a compelling story that the
Handspring Puppet Company
conceives it as a work of the imagination -- and re-imagines it for the stage.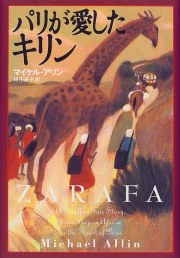 AND ... THE KID:



AUDIO LINK:


VIDEO LINK: