"In America you don't feel what you do. You are in the eye of a hurricane that you create. Pain and suffering and injustice all over the world, and all you see is blue skies."
The Sleeper
,
the sequel
,
will be published in September 2004.
(Listen to the Talk of the Nation segment about the novel, or read the Barnes and Noble
interview
, both from that summer of 97.)
French bookseller FNAC online
(Even if your French isn't great it is easy to navigate because it looks essentially like Amazon or Barnes and Noble. Just put "Dickey" in the search box, and you get various editions of Deliverance in French, as well as To the White Sea [La Bas au Nord], and Un Sang Innocent [Innocent Blood].


Un Sang Innocent on
Livresse.com
The French version, Un Sang Innocent, is now available in the popular
Livre de Poche
series
The translation Sangue Innocente made headlines in Italy in the summer of 2001. The translation is by Alberto Pezzota, who also did James Dickey's "To the White Sea" as
Oceano Bianco
. A review/interview in
Il Nuovo
, and, after 9/11, in La Stampa, Secolo XIX, in
Le Pillule
, and in
Stradanove.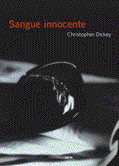 Sangue Innocente
, is available from Meridiano Zero.